FROM CORPORATE EVENTS TO WEDDING ENTERTAINMENT - GATSBY ARE THE BAND FOR YOU!
If you're looking for the freshest and most exciting band on the international party scene, then time to celebrate: you just found us! No matter what you're planning - high-end corporate events, weddings, party nights - we're flown all over the world to bring the party to you.
WHY BOOK GATSBY FOR YOUR
WEDDING OR CORPORATE EVENT?
Here's six very good reasons: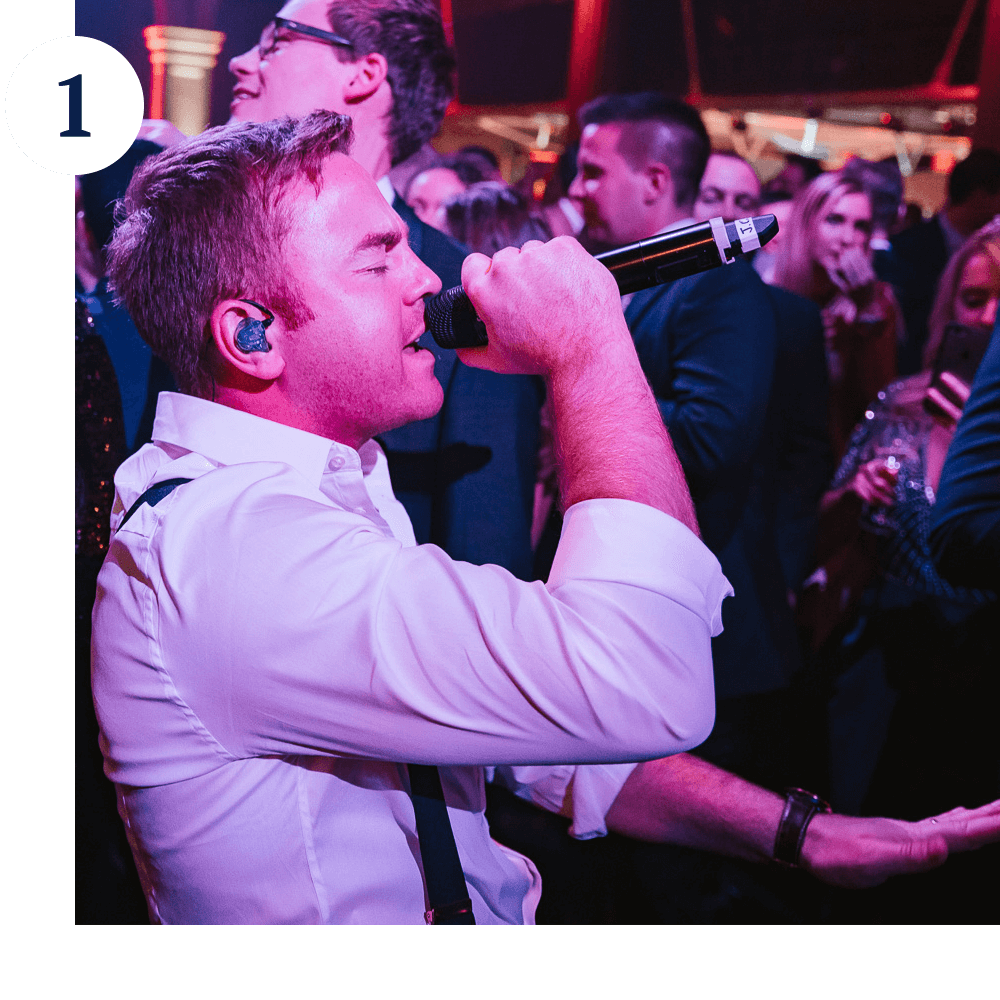 Featuring platinum selling vocalists and musicians of the highest calibre, we're the perfect showband for your wedding entertainment or corporate event. Our performance credits reads like a who's who of the pop music world. Beyoncé, Adele, Jessie J, John Mayer, Clean Bandit... the list goes on. With musicians who are so in-demand at this level, it's little wonder we're so highly regarded on the international party band scene.
WE'LL GO ANYWHERE YOU WANT TO TAKE US.
Gatsby are flown all over the world to play at destination weddings and corporate events. From Lebanon to Monaco, Tuscany to Mexico, we've done it all and raised the roof everywhere we go! This means we have the experience and the contacts to help make planning your event easy. Having a mix of nationalities at your party? Gatsby sing in seven languages! We are truly an international party band in every sense of the word.
We put an incredible amount of time and effort into making sure our set list is the freshest, most exciting playlist on the luxury events market. We drop songs like a DJ, crafting medleys and mashups that has the dance floor electric with anticipation. From Motown to contemporary pop; hip-hop to 90s R'n'B - we play it all and we do it with an energy that's insatiable. Head to our repertoire section to get a more in-depth look.
From your initial enquiry to the last song of your wedding night, our director Jonathan will work closely with you to make sure your vision comes to life. Whether the event is big or small, in the UK or abroad, we give the same level of detail and care to every client we work with. A bespoke arrangement for your first dance? No problem. Need help or inspiration for your ceremony or cocktail reception? We can give various options and advice to help sculpt your day.
WE'RE TRUSTED.
When it comes to hiring a band for corporate events, we've got an excellent reputation for our professionalism, care and reliability. We've performed for a host of discerning clients around the world as well as companies like Ferrari, Google, Yankee Candle, Yahoo, and many more - we even closed the show at the official Brit Awards afterparty in 2018!
The final and most important point. Everyone wants their event or wedding to go off. They want the dance floor to be packed all night and for people to talk about it for years to come. This is what we do. We are the most sought after international party band for a reason. We bring it each and every time (check out our Instagram!). From the first song to the last, we'll be right there partying with you. We sing, we dance, we rap and we love what we do which is why no matter where we go it's always A NIGHT LIKE NO OTHER!